Features of HPR series hollow rotating platform reducer
The working platform can directly match the workpiece, enhancing convenience.
The rotary platform is designed with a hollow shaft, making it suitable for applications involving wiring or piping.
With a positioning accuracy of less than 1 arc minute and a repeatability accuracy of up to ±5 arc seconds, it increases the stability of the product.
These various advantages allow for a wider range of applications for the product.
Drawings of HPR series hollow rotating platform reducer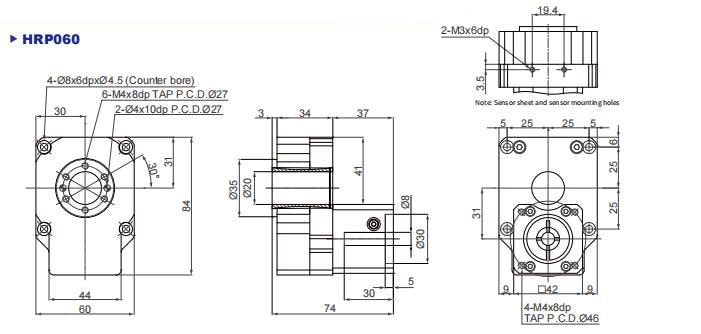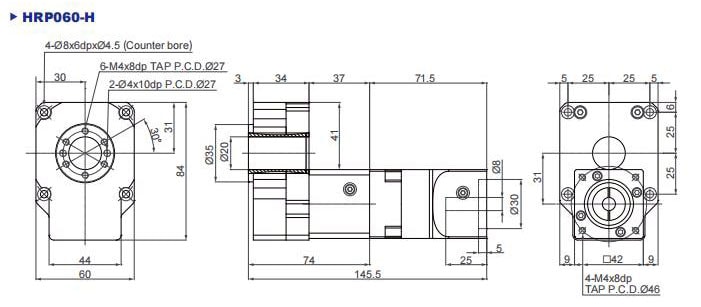 Parameters of HPR60/60H series hollow rotating platform reducer
Peoduct model
HRP060
HRP060-H
Rotating platform bearing
Deep groove ball bearing
Thrust roller bearing
Rated output torque(Nm)
5
Allowable thrust load (kgf)
20
Accuracy life(hrs.)
15000
Allowable output speed(RPM)
200(disk)
Ratio
5
15,20,25,35,50
Repetition accuracy (arcsec)
≤ 15
≤ 70
Positioning accuracy (arcmin)
≤ 1
≤ 1
Parallelism of rotating platform(mm)
≤ 0.02
Concentricity of rotating platform (mm)
≤ 0.02
Protection level
IP40
Weight (kg)
1
1.4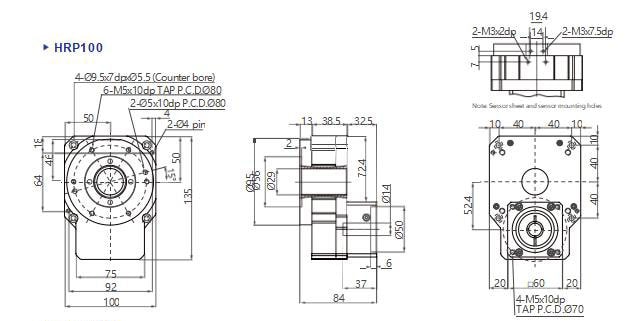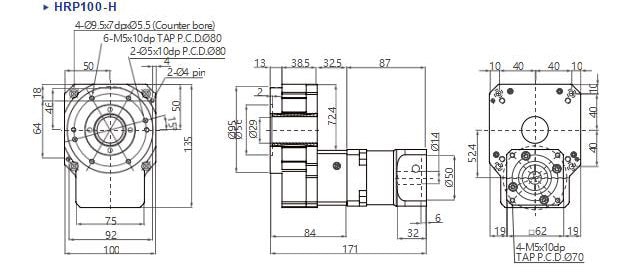 Parameters of HPR100/100H series hollow rotating platform reducer
Peoduct model
HRP100
HRP100-H
Rotating platform bearing
Tapered roller bearing
Deep groove ball bearing
Rated output torque(Nm)
45
Allowable thrust load (kgf)
200
Accuracy life(hrs.)
20000
Allowable output speed(RPM)
200(disk)
Ratio
8
24,32,40,56,80
Repetition accuracy (arcsec)
≤ 10
≤ 60
Positioning accuracy(arcmin)
≤ 1
≤ 2
Parallelism of rotating platform(mm)
≤ 0.02
Concentricity of rotating platform (mm)
≤ 0.015
Protection level
IP40
Weight (kg)
3
4.3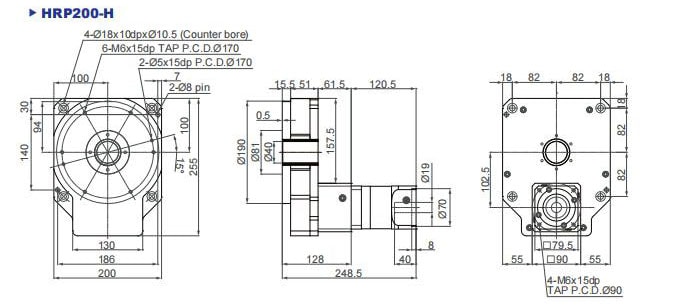 Parameters of HPR200/200H series hollow rotating platform reducer
Peoduct model
HRP200
HRP200-H
Rotating platform bearing
Tapered roller bearing
Deep groove ball bearing
Rated output torque (Nm)
80
Allowable thrust load (kgf)
500
Accuracy life (hrs.)
20000
Allowable output speed (RPM)
200(disk)
Ratio
10
30,40,50,70,100
Repetition accuracy (arcsec)
≤ 10
≤ 60
Positioning accuracy (arcmin)
≤ 1
≤ 2
Parallelism of rotating platform (mm)
≤ 0.02
Concentricity of rotating platform (mm)
≤ 0.015
Protection level
IP40
Weight (kg)
17.1
20.6