WFH series reducer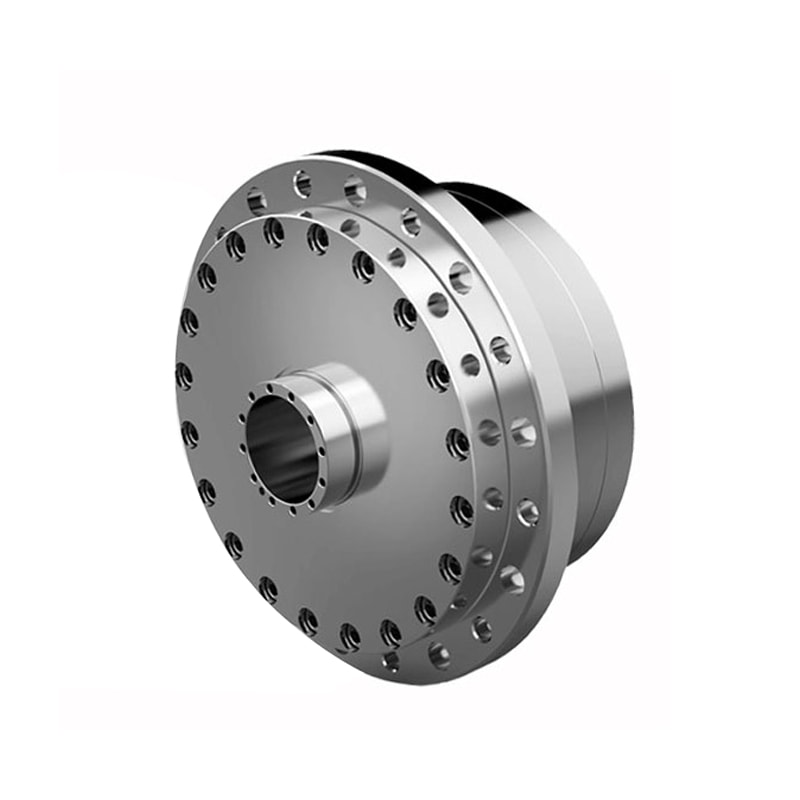 WFH series high precision reduction gears with through holes in the shafts, also known as hollow-shaft version.
Cables, tubes with compressed air, drive shafts etc can be led via the through holes in the shaft of the gear.
WFH series is completely sealed and are filled with grease for its lifetime. WFH series high precision reduction gears consist of an accurate reduction mechanism and high-capacity radial and axial cylindrical bearings.
This design of reduction gears allows the mounting of the load directly to the output flange or case without requiring additional bearings.
Advantages of WFH series reducer
High torque
High rigidity
High-precision
Small volume
High speed ratio
Big hollow
Characteristics of WFH series reducer
WF Series Features
Case
a. threaded holes in case
b. threaded and through holes in case
Input shaft design
Input shaft offers following versions:
a. shaft with key-way
b. according to special request
Installation and operation characteristics
A wider range of modular configurations
Ordering specifications of WFH series reducers
WFH
17
51
A
B
Name
Size
Ratio
Input
Output
WFH
11
Reference rating table
a. Key input
b. Hold on to input
a. Axis output
b. Flange output
17
25
32
40
Rating table of WFH series reducer
Size
Reduction
ratio
Rated
Output
Torque
Opening and
stopping
allowable
moment
Instantaneous
admissible
moment
Reted
input
speed
Max
input
speed
Inclination
stiffness
Torsional
stiffness
No-load
startup
moment
Driving
Accuracy
Backlash
accuracy
Inertial
moment
Weight
Axis
rotation
Shell
Rotation
Nm
Nm
Nm
rpm
rpm
Nm/arcmin
Nm/arcmin
Nm
arcmin
arcmin
Kg-m2
Kg
WFH07
21
20
15
30
45
3000
6000
6
1.1
0.12
P1≤±1
P2≤±3
P1≤±1
P2≤±3
0.52
0.42
41
40
0.11
0.47
WFH17
21
20
50
100
150
3000
6000
28
6
0.21
P1≤±1
P2≤±3
P1≤±1
P2≤±3
0.88
0.85
41
40
0.18
0.72
61
60
0.14
0.69
WFH25
21
20
110
220
330
3000
5500
131
24
0.47
P1≤±1
P2≤±3
P1≤±1
P2≤±3
6.12
2
31
30
0.41
5.67
41
40
0.38
4.9
51
50
0.35
4.56
81
80
0.31
4.25
WFH32
25
24
190
380
570
3000
4500
240
35
1.15
P1≤±1
P2≤±3
P1≤±1
P2≤±3
11
4.2
31
30
1.1
10.8
51
50
0.77
9.35
81
80
0.74
8.32
101
100
0.6
7.7
WFH40
25
24
320
640
960
3000
4000
377
50
1.35
P1≤±1
P2≤±3
P1≤±1
P2≤±3
13.2
6.6
31
30
1.32
12.96
51
50
0.92
11.22
81
80
0.81
9.84
121
120
0.72
8.4
Notes: Medium speed ratio "italics, thickening" is the commonly used speed ratio, other speed ratios can be booked.
Right to change without prior notice reserved!
WFH series reducer drawings
WFH11 Hollow Planetary Circular Gear Reducer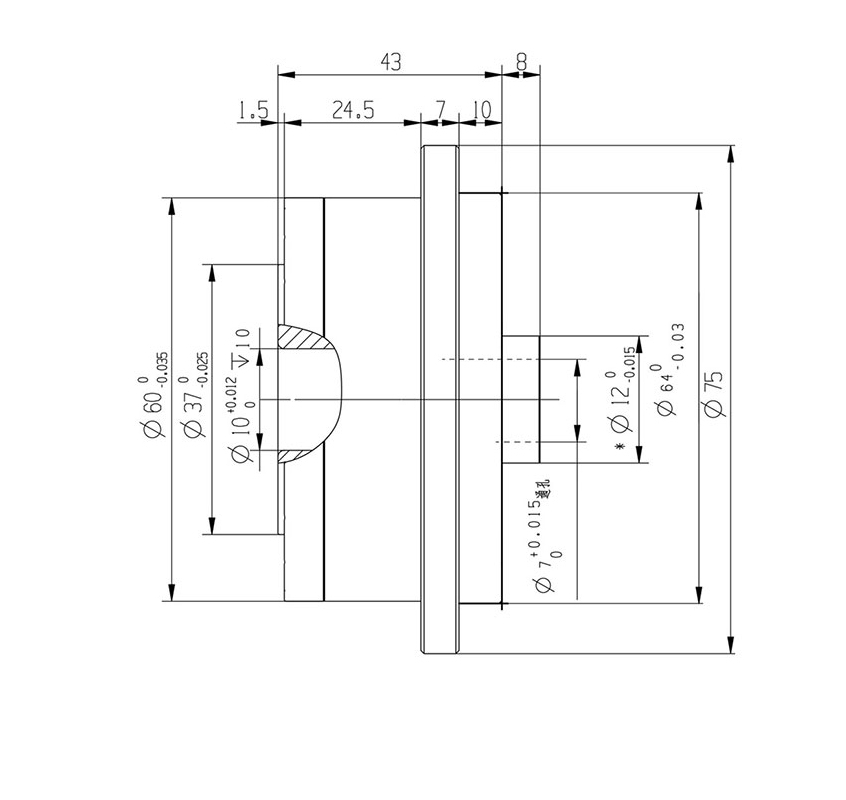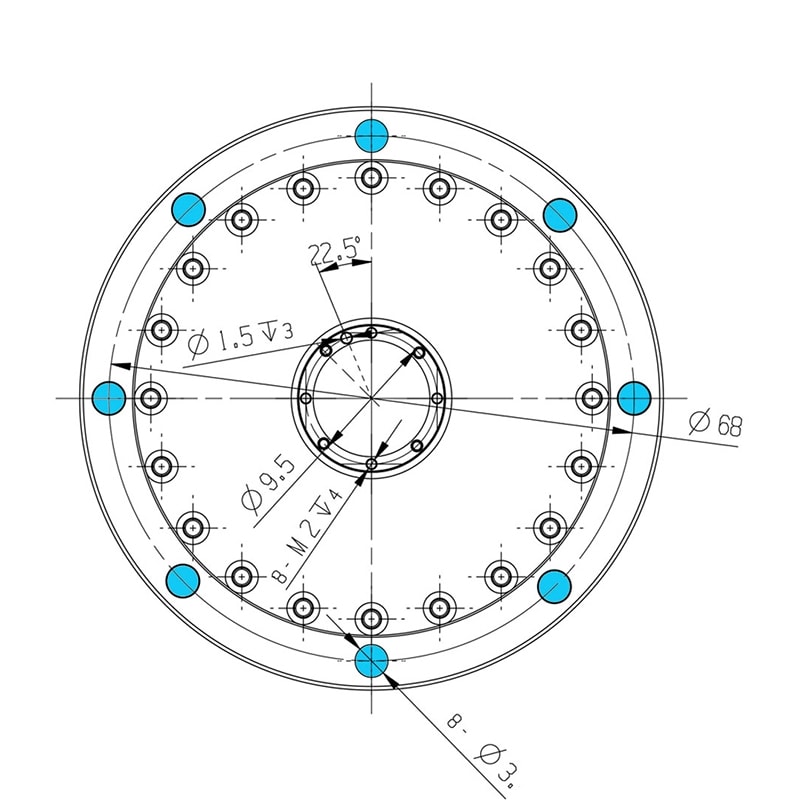 WFH17 Hollow Planetary Circular Gear Reducer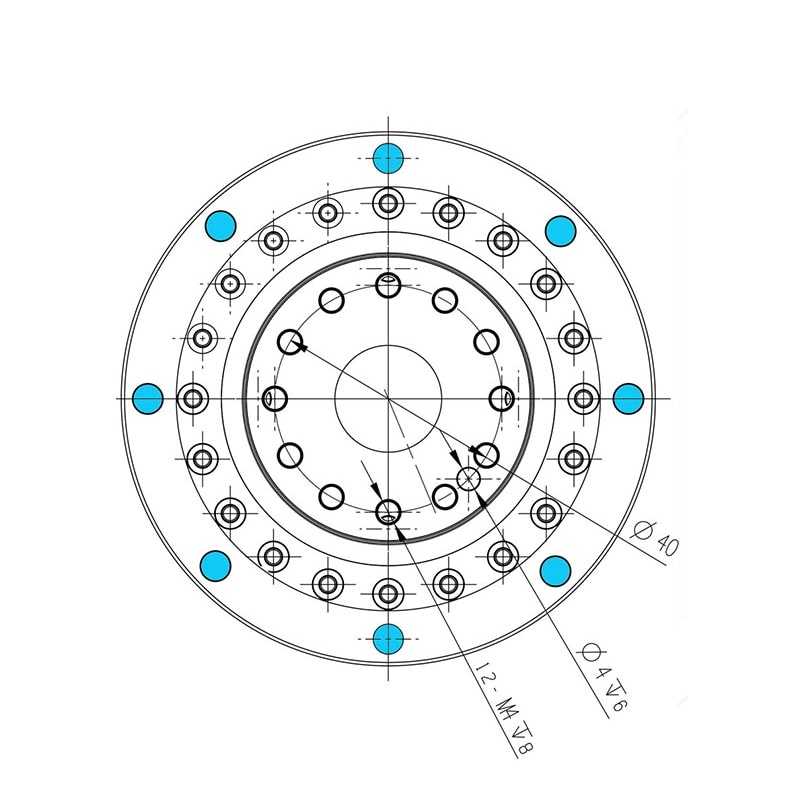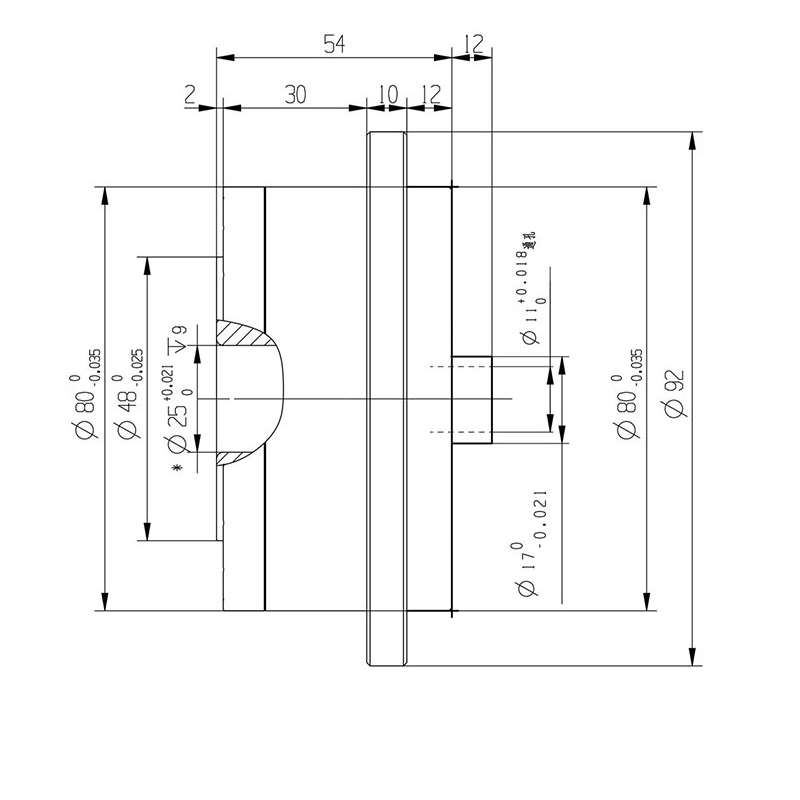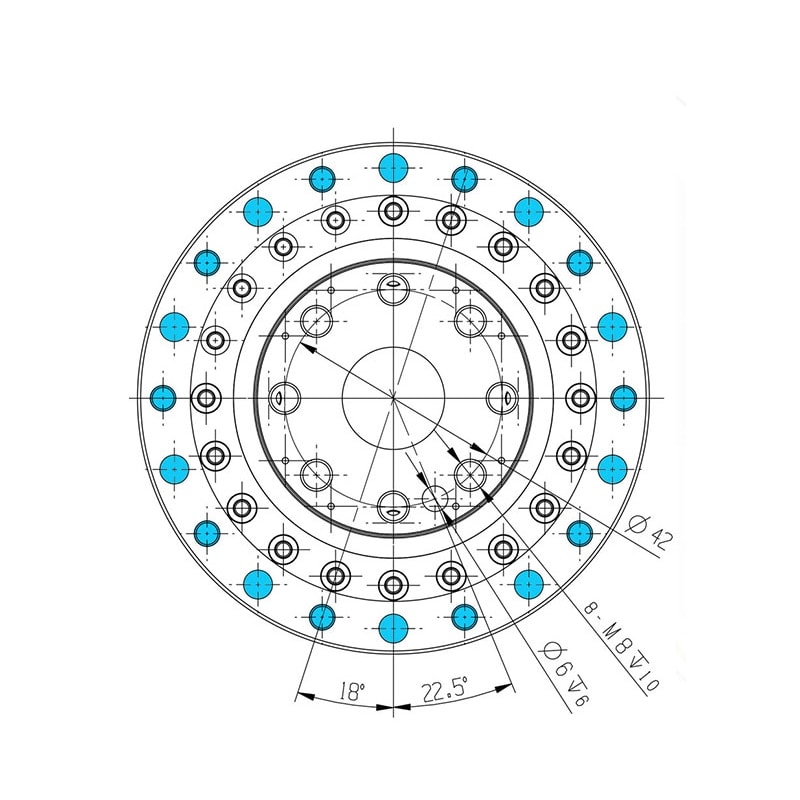 WFH25 Hollow Planetary Circular Gear Reducer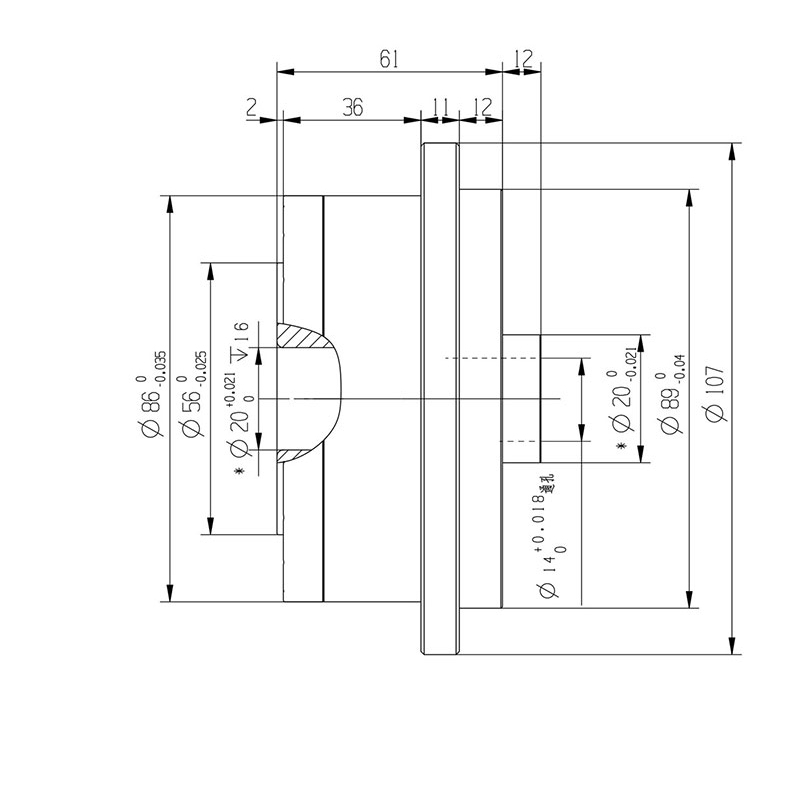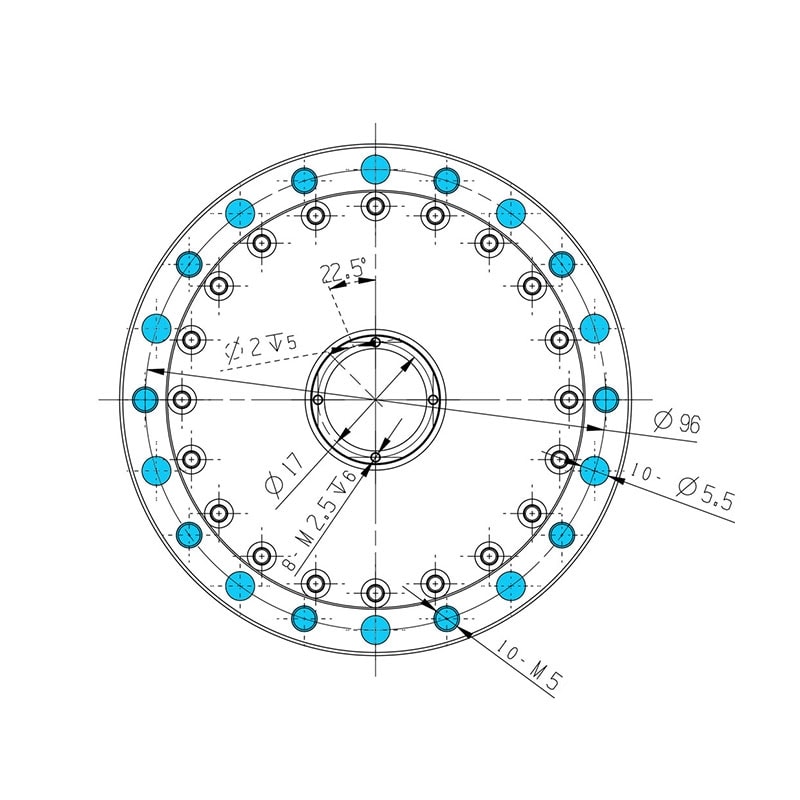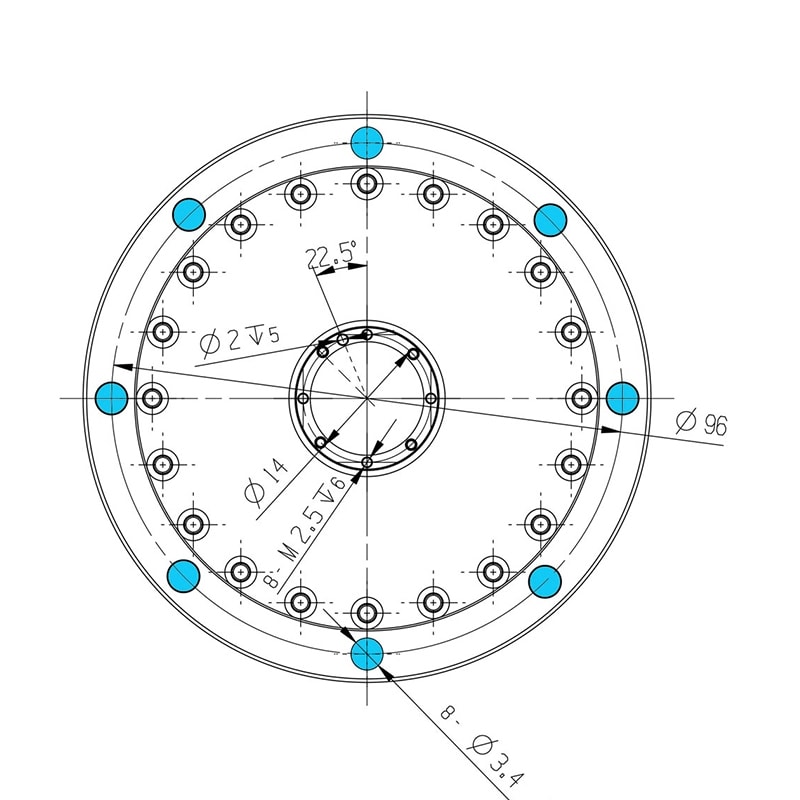 WFH32 Hollow Planetary Circular Gear Reducer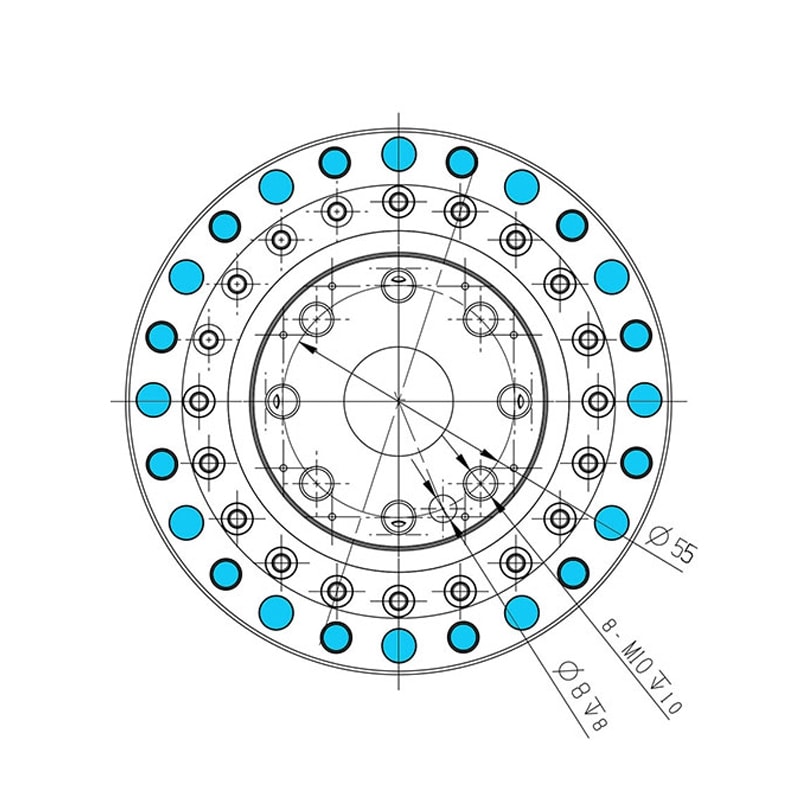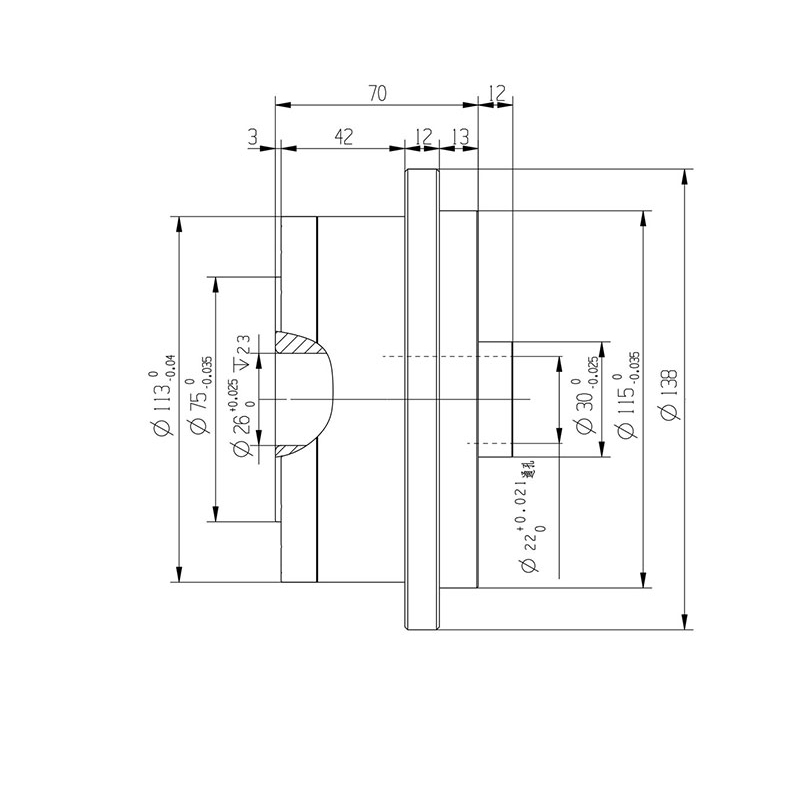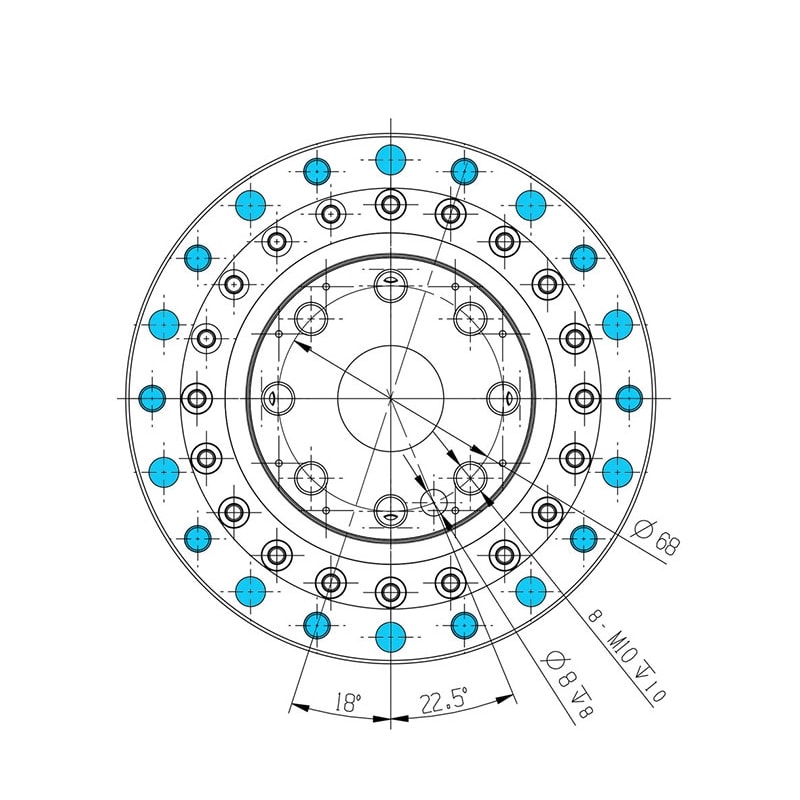 WFH40 Hollow Planetary Circular Gear Reducer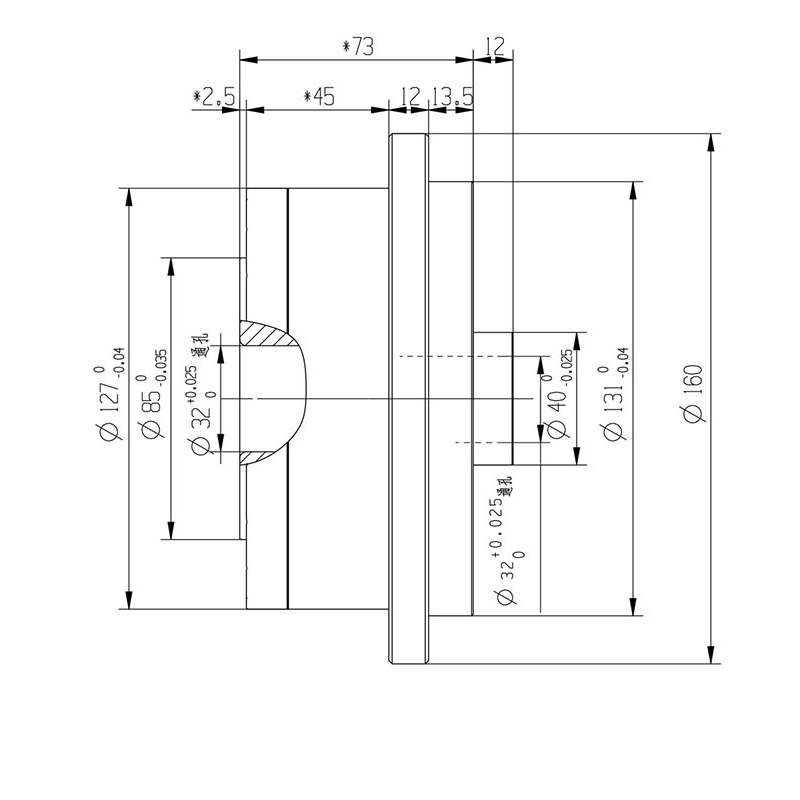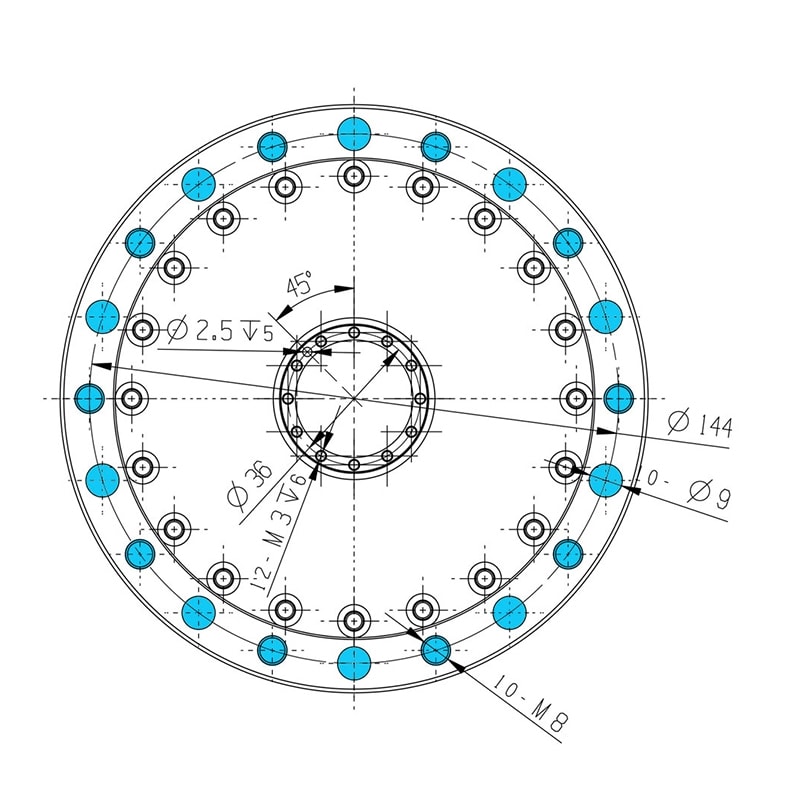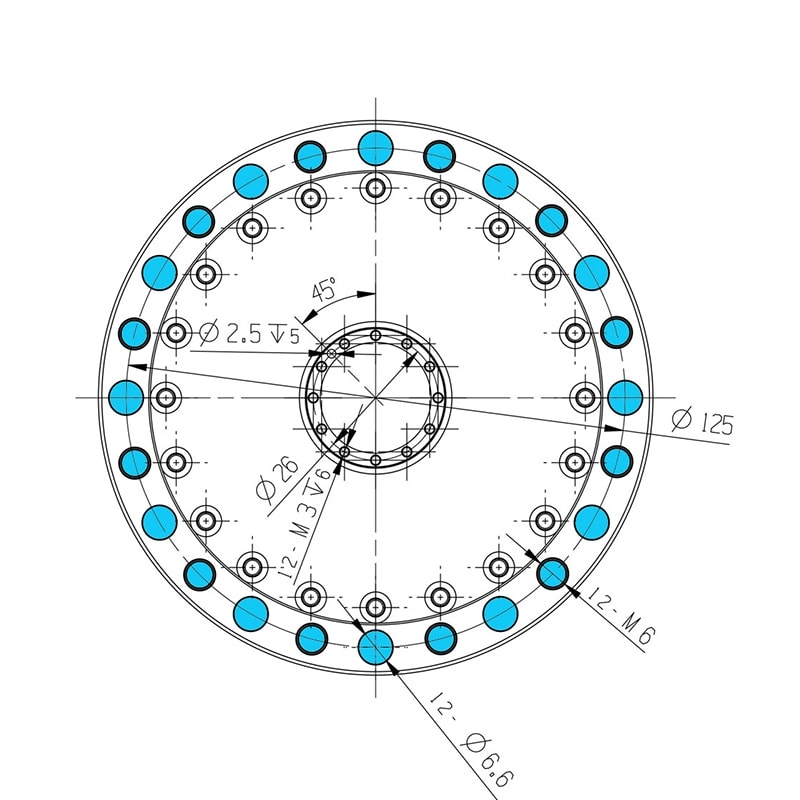 General information of reducer
The Fubao high precision reduction gears are based on a new reduction mechanism and a new design of a radial-axial output bearing. As a result,they represent a new generation of power transmission systems. This new transmission concept allows the use of the Fubao reduction gear directly in robot joints, rotary tables, and wheel gears in various transport systems.
Fubao high precision reduction gears are designed for applications requiring a high reduction ratio, high kinematic accuracy, low lost motion, high moment capacity and high stiffness of a compact design with a limited installation zone, and low mass.

Operating principle of RV reducer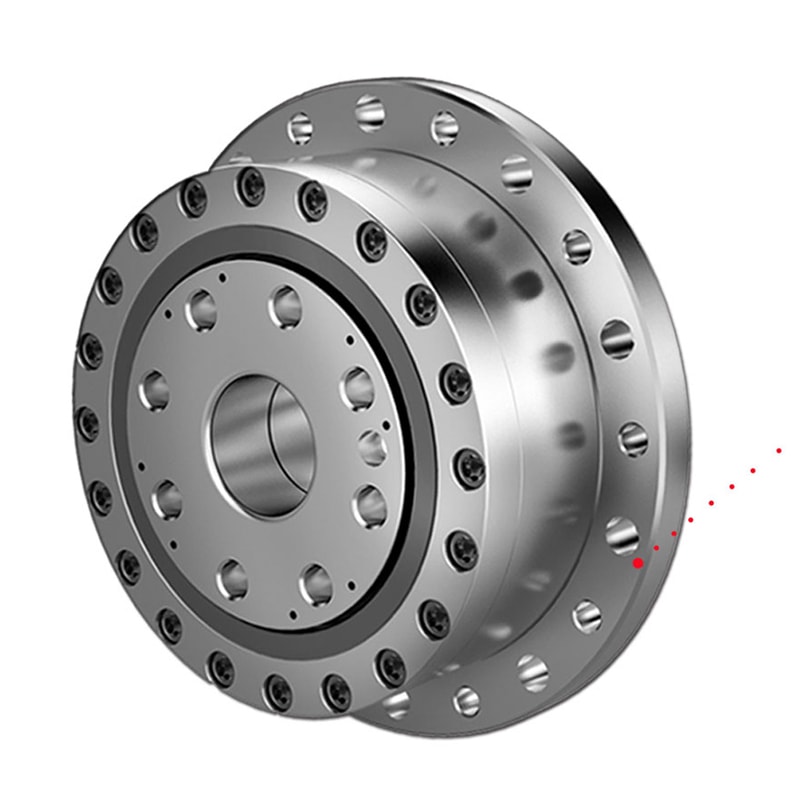 Smallest outer diameter size φ=40mm
Fubao precision reducer
The basic parts of FubaoDRIVE high precision reduction gear are show in Fig.
Case of reducer

At the same time incorporates the high capacity precision radial, axial output bearing integrated in the reduction gear.

Flanges of reducer

Input and out put flanges are fixed together by pin shafts, and rotate at reduced speed in the radial-axial output bearing relative to the case.

Input shaft

High-speed member of the reduction mechanism carried by bearing in the flanges. The shaft eccentrics rotationally support the trochoidal gears viabearings.

Trochoidal gears

Their almost 50% simultaneously meshing trochoidal teeth transmits a very high torque which ensures powerful and ensure the performance and accuracy of the reduction gear.
Functional advantages of RV reducer
Micro-structure

By adopting differential deceleration mechanism and thin cross roller bearing, Achieving ultra-flat shape and contributing to compact size of equipment. Small size and unparalleled excellent parameters are combined to achieve the best ratio of performance, price and size.

Exceptional precision

Complex meshing through precision hypocycloid gears and high precision hobbing, achieving higher transmission accuracy. At the same time, small size and large speed ratio are maintained

High rigidity

Increase meshing rate and disperse load, so rigidity is very high.

High overload capacity

Excellent parameters of tilting and torsional stiffness at the same time with keeping of trouble-free operation under exceptionally low noise and low vibrations. Relyon high resistance and overload capacity of reduction gear with integrated radial-axial bearings that is guaranteed to you by us at various temperature ranges of application environment.

Easy installation of motor

It can be installed directly for any brand of motor without adding any device

Maintenance free

Seal in grease to achieve maintenance-free. Don't need to add lubricating grease later, no installation direction restriction.

Technical support

Our professional team of experts is ready to solve any problems for you. The manufacturing process of high wear resistant materials and high precision parts is certified by lSO9000 quality system, which is also the basic premise for reliable operation of products.
Installation process of RV reducer
Before the installation, it is desirable to wipe off the protective oil film from the surface of the reduction gear by a clean and dry clothContact surfaces of friction joints must be degreased prior to the installation.
When cleaning, make sure that the degrease doesn't get into the reduction gear.
During the installation, proceed with following steps:
First, fasten a coupling to the reduction gear, then the connecting flange, to which mount the motor and then bolt the whole assembly to the frame.
Reduction gear is most often used in combination with a pre-stage, which may comprise gears or toothed belt drives. The driven pulley is attached to the shaft of the reduction gear with screws which have to be tightened with a tightening torque according.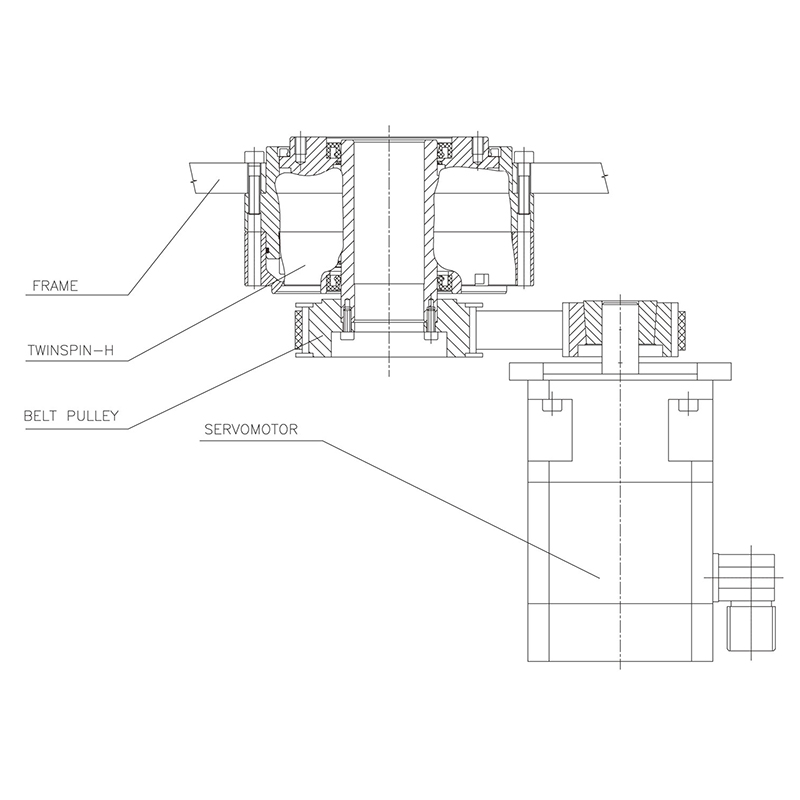 Connection of a toothed pulley with the reduction gear shaft by means of a screw connection.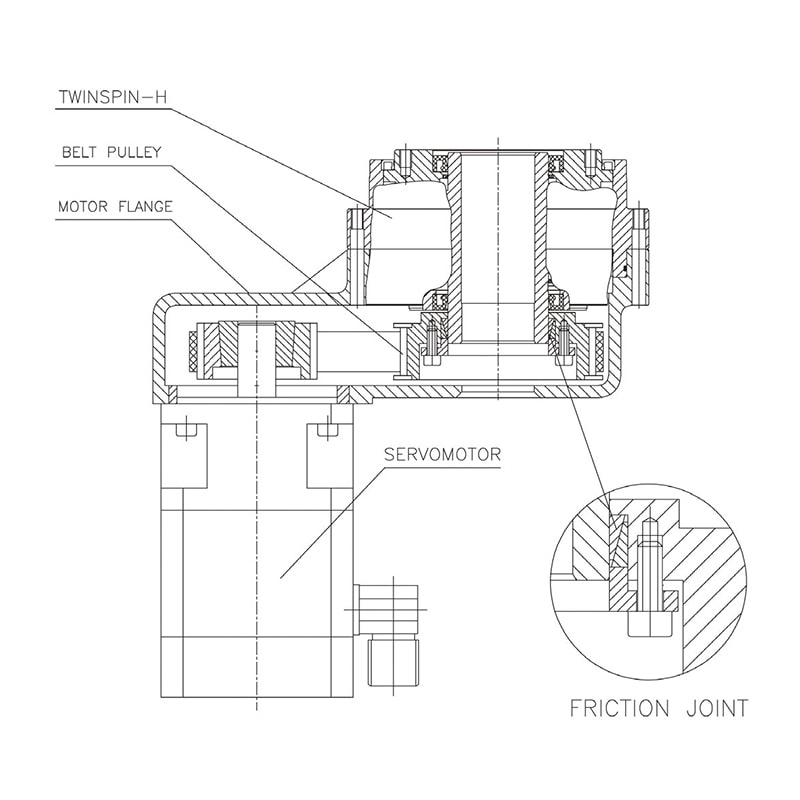 Connection of a toothed pulley with the reduction gear shaft by means of a friction connection.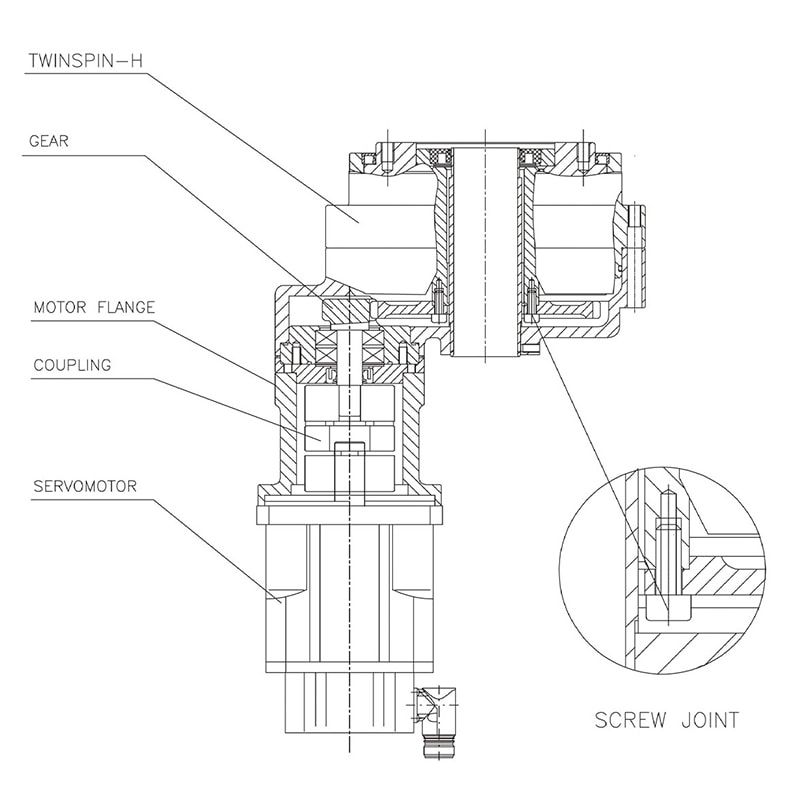 Connection of a gear wheel with the reduction gear shaft by means of a screw connection.
Application Industry
Suitable for a wide range of applications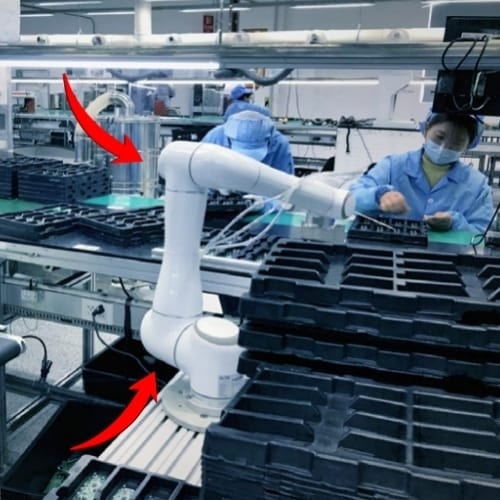 Cooperative Robot
Multi-articular machine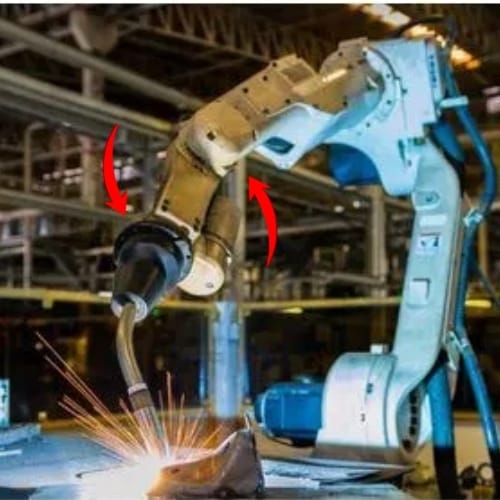 Laser Cutting Machine
Machine tool,Grinding mach-ines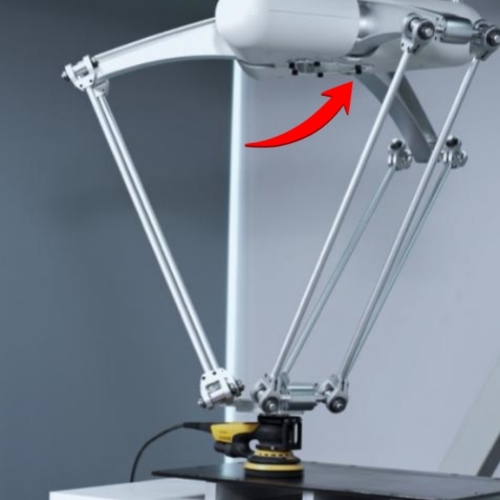 PARALLEL MANIPULATOR
Scara robots,spider hand...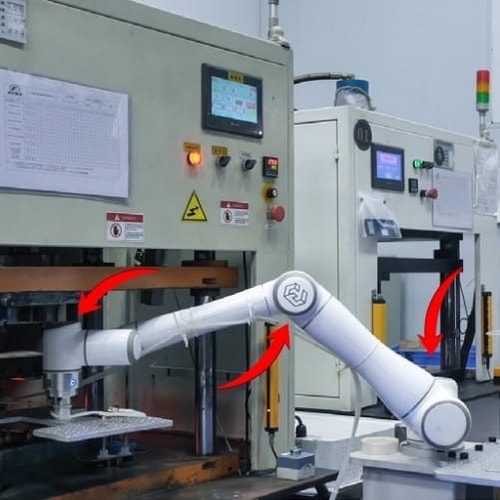 INDUSTRIAL ROBOT
Manipulator,axis robot etc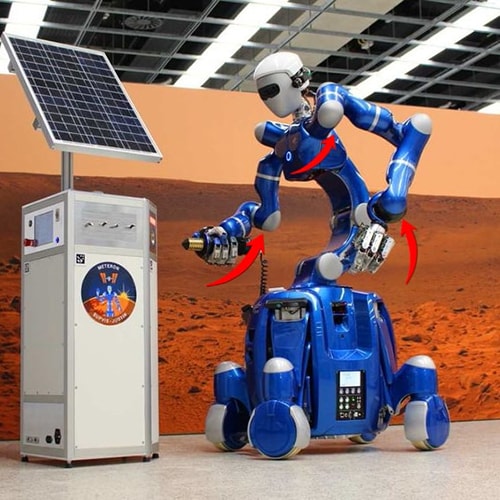 HUMANOID ROBOT
Bionic robot,walking robots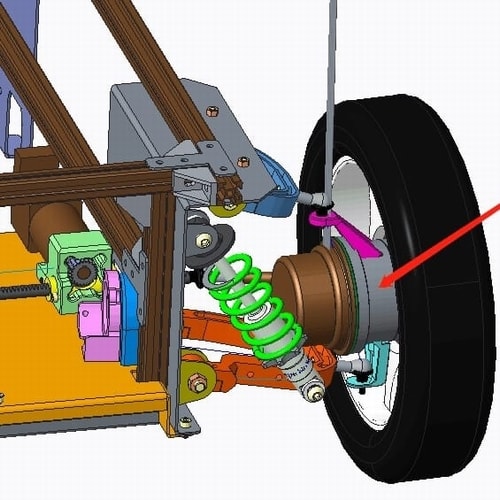 AGV CAE
Warehouse logistics AGV car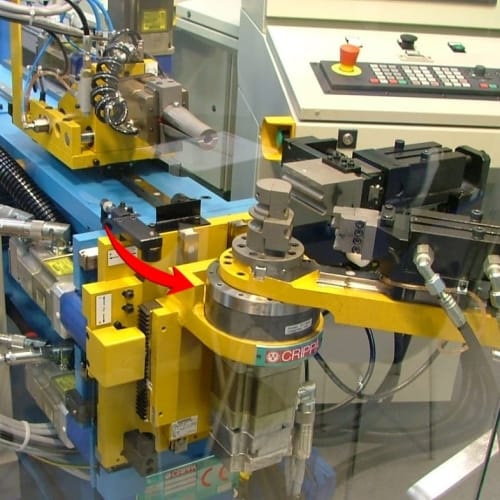 MACHINE TOOL
Pipe bending machine...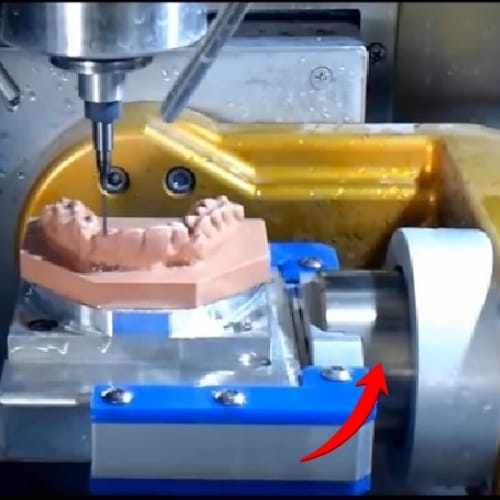 CNC Carving Machine
Denture carving and printing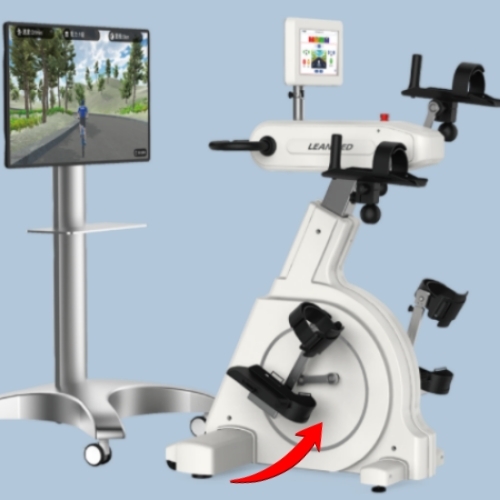 EXTERNAL ROBOTS
rehabilitation bobot...
Factories of Fubao Mechanic Tech